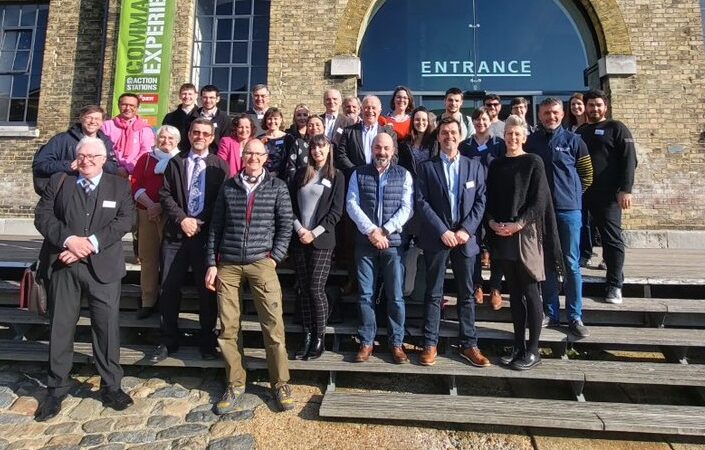 We arrived in sunny Portsmouth on the Monday afternoon in time to set up our PACCo stall. The conference venue was in the historic area of Portsmouth (very conveniently a stone's throw from the ferry terminal, train and bus stations) and was a huge, mainly open-plan building normally used as a hands-on interactive Royal Navy Commando experience, with a large auditorium, conference room and café area. With leg- and team-work carting kit up the stairs, installing our drone video footage, and improvisation – including, moving things around and attaching dozens of sticky velcro labels, we managed to set up our PACCo project stall. This incorporated a mix of project outputs (banners, posters, historical information / maps, and reports, leaflets and newsletters – with QR codes to access these on the website), with additional photos, and illustrations by a local Devon artist (John Washington).
From the start on the Tuesday morning there was a definite buzz around the exhibition area, with participants exploring the stalls, greeting old friends / colleagues and asking questions about the various project exhibitions.
The conference was organised jointly by the PACCo project and Coastal Practitioners, a consortium of experts in climate change and coastal flood resilience, management and flood defence, including representatives from the Environment Agency, Natural England, local authorities, non-governmental organisations and local community groups. A number of UK and EU projects were represented. It felt like a community of practice – people who had similar interests and were interested in learning from each other. The PACCo and Coastal Practitioners delegates complemented each other and the mix of policy / strategy and practical on-the-ground knowledge created opportunities for rich discussions.
You can find the list of speakers and all the abstracts of the talks in the Conference report (available on the PACCo website downloads page here) – we give just a few personal highlights and reflections here. The presentations were varied and covered a range of topics from overview, policy and strategy; through a detailed look at climate and coastal environmental data; to local projects and engaging with local communities. We had presentations showcasing nature-based solutions, managed realignment, flood resilience / defence, catchment and climate change projects from all over the UK as well as from PACCo partner organisations in the Saâne Valley, Normandy, France. We learned about historical and recent flooding events, and were given a powerful insight into what the future might look like in terms of sea level rise under different climate scenarios. There was a chance to discuss important issues such as how we can adapt and respond to climate change and sea level rise, what data is available to support this, and innovative solutions that have already been trialled and implemented. There was a call to action, a willingness to experiment and try new things, and a discussion of potential funding sources in the context of the loss of EU funding (for the UK as a result of Brexit; not France).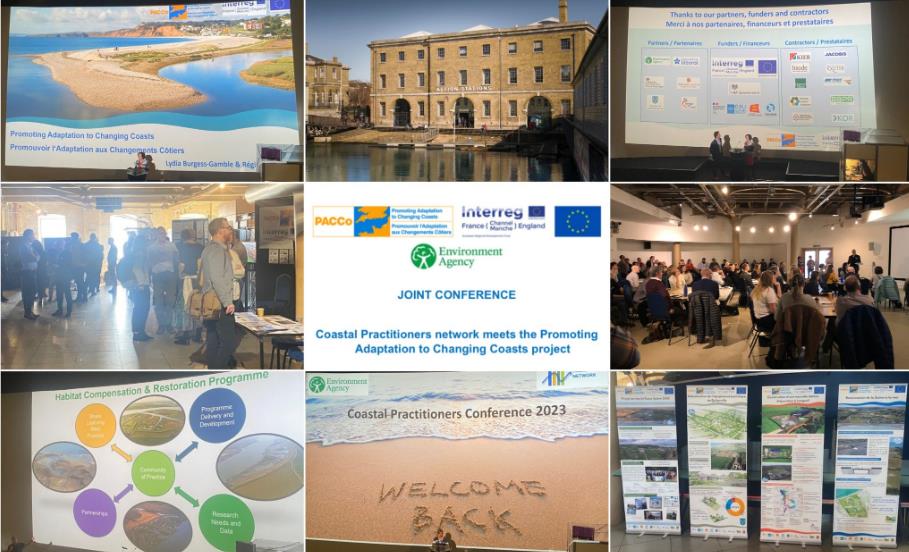 The discussion on community engagement also provided some interesting insights into how best to engage with local people in relation to coastal / flood resilience schemes – ensuring inclusivity and representation, engaging early and in an open way, and facilitating the process of taking a step back from potentially entrenched 'red lines', problems and tensions in order to examine the dilemmas, issues and values driving these. Such an approach can potentially lead to the creation of more innovative, inclusive solutions.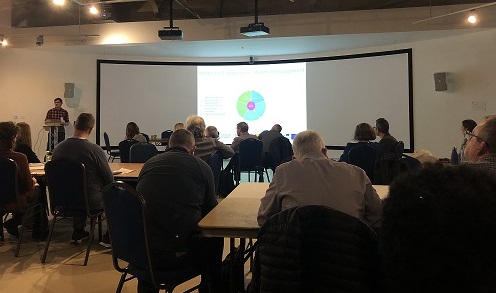 Personally, I gained some insights into the breadth of work being done in this area, the policy context and data available, and how the PACCo project is situated in the wider context of coastal / flood resilience, nature-based solutions and climate change work. The conference also brought the opportunity to meet more of a range of people working in the field, as well as to connect in person with some new and old friends. It was a great way to reinforce and (almost) round off my relatively short but rewarding experience of working on PACCo.
A huge thank you to Lydia, Eleanor, Becky, Ed, Ben, Jasmine and the rest of the PACCo and Coastal Practitioners teams for organising the conference (including the delicious vegetarian / vegan food). Thanks also to Marion and Sinead for the English-French language interpretation (including cheerfully coping with the different styles, accents, acronyms and speeds of presentations).
The full PACCo Coastal Conference report, including links to slides and individual reports, is available on the PACCo website downloads page here.