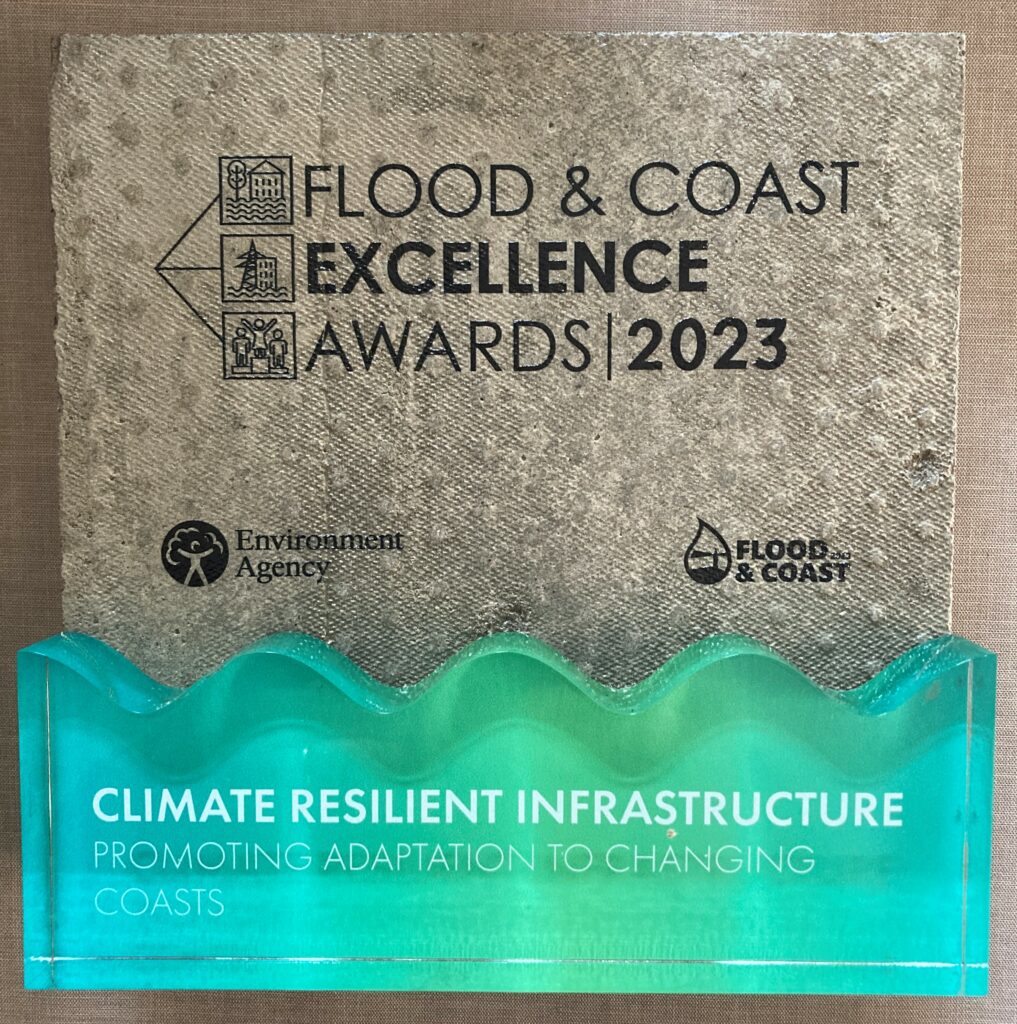 On 7 June 2023, the Promoting Adaptation to Changing Coasts project was presented with the prestigious 'Climate Resilient Infrastructure' category award at the Flood & Coast Conference Excellence Awards 2023.
Flood & Coast is an annual conference hosted by the Environment Agency. Its purpose is to share and celebrate the most innovative projects and individuals that have worked tirelessly to increase climate change adaptation and coastal resilience, and reduce flooding and coastal erosion both internationally and in the UK. The event attracts a wide variety of projects and coastal practitioners from across the country, with this year seeing around 600 delegates attend.
The 'Climate Resilient Infrastructure' award recognises non-FCERM (Flood and Coastal Erosion Risk Management) projects or programmes that have achieved high impact FCERM benefits alongside their primary aim.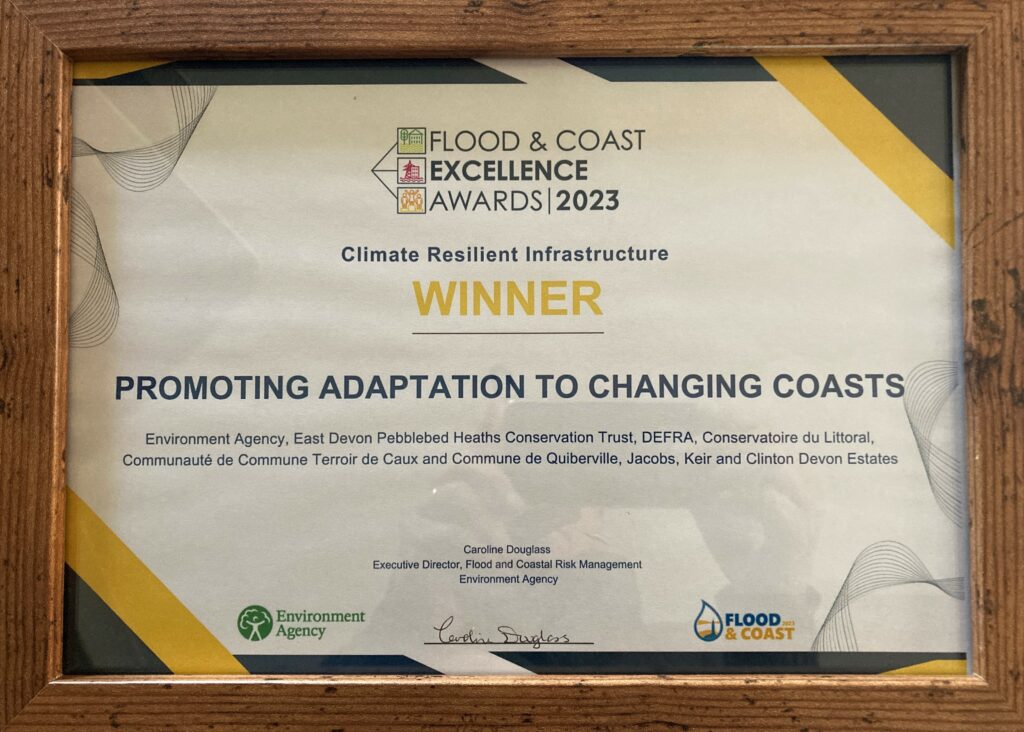 Despite being up against a number of inspiring projects, PACCo received a unanimous winning vote from judges. The project was recognised as providing vital education on climate adaptation, and already visible benefits and improvements to the landscape, biodiversity, and local communities at its two sites – the Lower Otter Valley (Lower Otter Restoration Project) in Devon, and Saâne Valley (Basse Saâne 2050 project) in Normandy, France. It was also recognised as the first EU climate adaptation, habitat restoration and infrastructure enhancement initiative to deliver significant and simultaneous improvements to coastal communities and environments in two cross-border estuarine locations.
It is estimated that around 70 estuarine sites in northern France and southern England could benefit from a similar model, working with nature to address the critical climate-related challenges facing coastal areas. In order to share this model and encourage the take up of similar schemes, the PACCo Guide – a transferrable and practical adaptation strategy that details methodologies and lessons learnt, is now freely available, as are a host of videos, reports and other resources via the 'Downloads' section of the website.
Through the guide, PACCo aims to help and inspire policymakers, contractors, and coastal practitioners in locations in need of similar collaborative and proactive nature-based climate adaptation.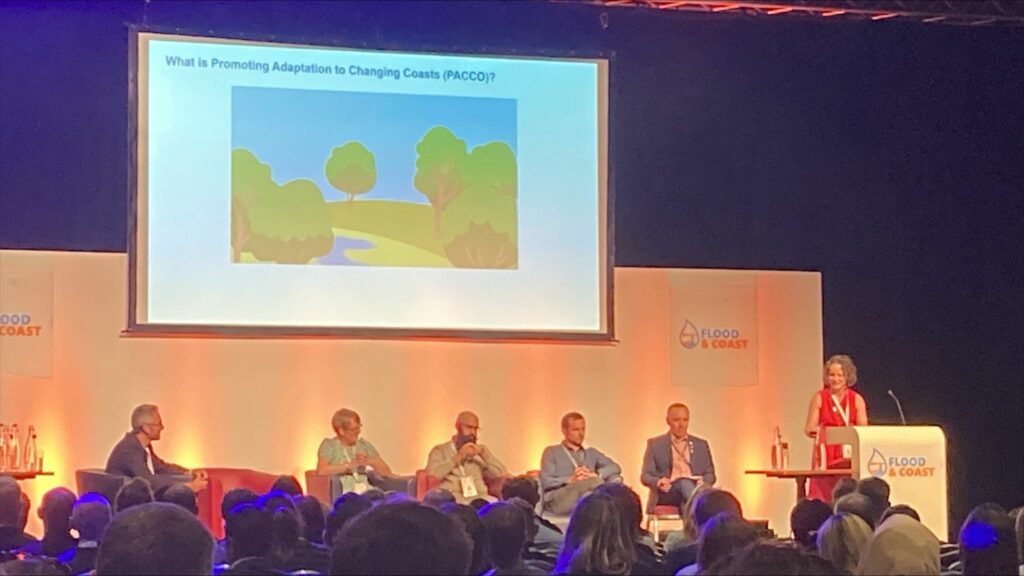 Senior project manager, Lydia Burgess-Gamble spoke at the Flood & Coast Conference about PACCo, the valuable knowledge gained from the project's implementation, and the importance of mainstreaming pre-emptive coastal management and nature-based adaptation strategies.

Lydia commented: "The PACCo team is absolutely delighted to have won the 'Climate Resilient Infrastructure' award at this year's Flood & Coast, and to have been given the opportunity to present the project to coastal practitioners, contractors, environmental enthusiasts and policymakers from far and wide.
"This award serves as recognition of the critical importance of increasing proactive, collaborative, and nature-based climate adaptation to protect our coastal habitats and communities. It is also a testament to the dedication and expertise of our team, and we're incredibly proud of the work we have achieved at our two sites. I'd also like to say a huge thank you to all our partners, funders, contractors, and supporters who have enabled us to deliver such a successful project, and one that will improve the lives of the communities and wildlife it serves for generations."
From left to right: Jasmine van der Eijk, communications lead; Becky Price, project officer; Ed McIntyre, graduate engineer, and Lydia Burgess-Gamble, senior project manager.