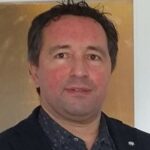 I've been the General Services Manager at the Communauté de Communes Terroir de Caux since it was created on 1st January 2017. It covers a population of 39,000 with 100 agents.
I've been working for local government departments since October 1994. Before that, I spent four years in the private sector.
What motivates me is a real desire to get stuck in. I actually have a couple of businesses myself, which spurs me to achieve more and gives me the perspective from the other side of the public-private sector divide. It is also a good way to get on-the-ground feedback for elective representatives.
With PACCo, I get to satisfy that need to start something new, to create, to find solutions, meet with stakeholders and all in a project with high environmental stakes, making it all the more resilient. The incredible amount of coordination needed around this bi-country project and the various stakeholders is exciting and rewarding both personally and for the areas we are working in.
Project Location:
Basse Saane 2050, France