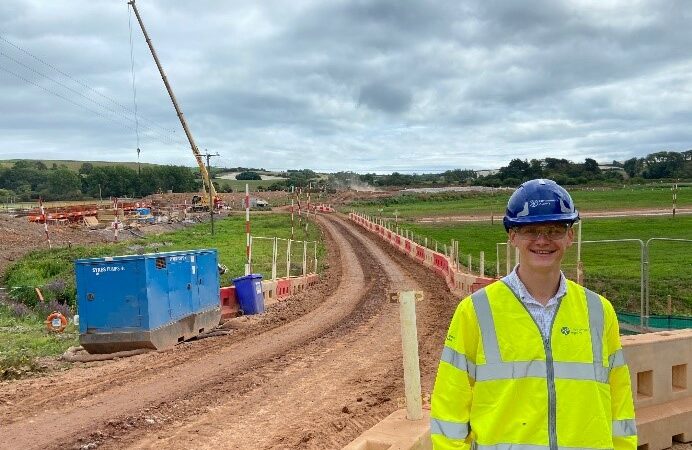 Ed is a Graduate Engineer who joined the Environment Agency's graduate programme in 2021. He obtained a first-class honours in Civil Engineering from Newcastle University and previously worked for Natural England.
On the graduate programme he completes a variety of rotations and secondments to sign off attributes on the way to achieving chartership status with the Institute of Civil Engineers. His previous rotation was in Flood Risk Activity Permitting, before moving into the Promoting Adaptation to Changing Coasts (PACCo) project team in the summer of 2022.
Ed's role is incredibly varied. He has partaken and hosted site visits, interviewed for promotional videos, presented in cross border webinars and facilitated and spoken at conferences. Travelling with the team to northern France remains one of his personal highlights, giving him the opportunity to build rapport and strengthen cross-border relationships.
However, he has mainly worked on formulating and producing the PACCo practical guide. Working alongside Dr Lydia Burgess-Gamble, they structured the report to capture all the work that had gone on, on both sides of the channel. The outputs were a series of lessons learnt and recommendations for future projects. He devised and wrote the Design and Construction chapter which entailed close liaison with consultants, contractors and the project board as well as analysis of engineering documents to gather the relevant information.
Reflecting on his experience to date he commented:
'It has been a genuine privilege to have been involved in the PACCo project. I have always believed in cross border collaboration to adapt to the growing risk of climate change and being a part of a diverse and committed team to share the best practice and knowledge is immensely rewarding.
I am very proud of what the team and I have achieved. The physical changes to the landscape are the most noticeable, but the way in which it has been delivered is unique. Though much of the work is applying well established engineering practices, the exposed environment, variable ground conditions and scale, demand a degree of pragmatism. Furthermore, working together with the local community and environment sets the baseline for future projects to follow.
Personally, publishing the guide and knowing it will provide a source of encouragement and comfort for others to take on the challenge of costal adaptation is fulfilling. It has broadened my engineering knowledge greatly and I am eager to apply what I've learnt in my career moving forward.
Above all else it has been so much fun. Travelling overseas to France, which I have been reminded many times is not common with work, has continually engaged me and been a source of great enjoyment. I have made countless professional and personal connections that will last way beyond project completion.'