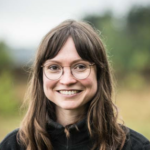 I've worked in environmental project management and engagement roles for the past six years, mostly in London. In this time, I also completed an MSc in environment, politics, and globalisation.
My experience includes work on a broad range of environmental topics (from air quality to waste reduction, energy use to wellbeing), with projects often involving many diverse partners and audiences.
I joined the EDPHCT in December 2020 to work on PACCo, excited to work on a pioneering project that encompasses climate mitigation and adaptation, biodiversity benefits, cross-border working, and a more natural approach to our relationship with nature.
Project Location:
Lower Otter Restoration Project, England